The Full City Challenge (2019)
A joint initiative of the Economy League and Billy Penn, the 2019 Full City Challenge was the Economy League's first foray into sparking civic innovation. The FCC posed a challenge to Philadelphia: we have a world-class food economy and world-class food insecurity. Solve.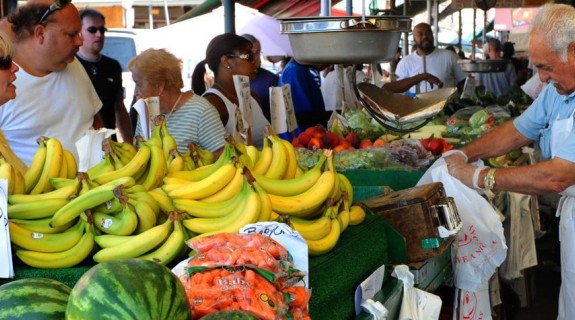 The Full City Challenge was a rapid incubator focused on identifying and supporting new collaborations that leverage our region's robust food economy to address the acute problems of hunger and poverty in the Philadelphia region.

Philadelphia is home to one of the country's most dynamic and diverse food scenes. At the same time, one in five Philadelphians don't have enough to eat — and in contrast with national trends, that number appears to be growing. Philly is also the poorest big city in the country, with nearly half of residents struggling to make ends meet. There's a lot of great work happening in the city around addressing these linked issues of food and financial insecurity, but it's clear that there's more to be done. With this in mind, the Economy League and Billy Penn presented the Full City Challenge and sourced dozens of innovative, community-driven solutions.
News from the Full City Challenge
ANNOUNCING THE FULL CITY CHALLENGE WINNERS!
During a spirited "shark-tank-style" pitch competition held in Center City on February, 20, 2019, a panel of superstar judges determined the Judge's Choice winner - Hospitality Together (now College Together) - and the People's Choice - Rebel Ventures - was crowned via GoFund Me participation.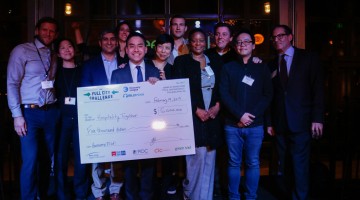 Grand Prize Winner: HospitalityTogether
Congratulations to Hospitality Together for winning the Full City Challenge Grand Prize! The HT team received $5,000, six months of free co-working space from CIC Philadelphia, and support from the Economy League network to place and implement a pilot of their concept in the coming months.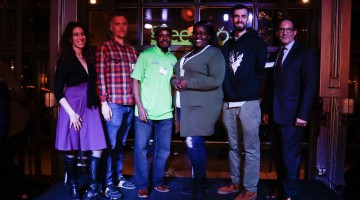 People's Choice Award: The Rebel Market
Congrats to the Rebel Market team for raising $12,421 on GoFundMe in just one week and winning the $2,500 Full City Challenge People's Choice Award! Learn more about the Rebels on the Rebel Market GoFundMe page and the Rebel Ventures website (https://www.rvcrew.com/)
CWC Wellness

Our program gives employers a way to encourage their employees to develop healthier habits, even if they are unable to increase pay or offer benefits. The CWC Wellness Program is designed to promote wellness across the food industry. With the team of Wellness Ambassadors that we have brought together, we will share tips, strategies & social support that make it easy for food industry employees to establish healthy habits, while still working hard to feed others. The Working Wellness section of the program offers a financial incentive for both employees and employers who want to support healthful living, by establishing a list of 100+ local providers who will offer exclusive discounts or special promotions to participating members.
HospitalityTogether

HospitalityTogether is the college alternative where Philadelphians are not asked to choose between working and learning. We celebrate both. Students are placed at top restaurants, where they have a path to advancement in wages and position while gaining soft skills. As they advance at work, they also do so in their education through self-paced, affordable, and flexible digital college courses at Brandman University. All of this comes together with a cohesive support ecosystem. Within a curated schedule, students meet regularly with their Advocate, a mentor who keeps track of progress every single day, and a team of Learning Advisors—personal tutors who help them through school. After a year in HospitalityTogether, students are living free from the injustices of poverty and have a foundation of income, skills, and college credits that they did not have before. They can choose to reroute to a traditional school, continue advancing in the industry, and/or finish their bachelor's degree with us.
Philly Food Rescue

Good food to good people is our mission. Philly Food Rescue is a comprehensive solution that strives to provide service without burden. Philly Food Rescue addresses the system's gaps related to logistics, employer support, transportation & recipient access. Philly Food Rescue leverages technology to empower community volunteers to heal their community through the transport of surplus food. Philly Food Rescue establishes a customized donation plan with recurring pickups & detailed donor reports to maximize tax deductions and reduce waste. In addition, Philly Food Rescue will dispatch transport immediately via the Philly Food Rescue app for ad hoc donations. From rescue alert push notification to recipient delivery, the app navigates volunteers through the rescue, in real time. Food Rescue Hero technology enables the Philly Food Rescue team to monitor travel time for safe arrival & assist as needed. Philly Food Rescue's experienced staff provide safety and program training for donors, volunteers, and recipient organizations.
The Rebel Market

Our idea is the Rebel Market, a youth-powered produce/snack store on 52nd Street. Our primary goal is not profit, but instead providing affordable, nutritious foods to our target audience (kids in Philadelphia). Our exact menu will depend on the infrastructure of our space. At minimum we will sell fresh produce, sliced 'grab and go' produce, parfaits, smoothies, Rebel Crumbles, and other healthy snacks, many priced at $1 or less. If we are able to cook food, our crew will design a simple menu featuring healthy, delicious foods we want to eat like tasty salads and stir-frys. When determining what to sell, we will use a framework that considers affordability, nutritiousness, deliciousness, simplicity, seasonality, geography, and mission-alignment. 100% of our products will be healthy deliciousness. Our plan is to hire one full-time staff person to operate the business, with high school students working part-time after school and on the weekends.
Victory V Farms

Victory V Farm uses controlled environment agriculture technology to grow leafy greens & herbs in underutilized buildings. Our goal is to build a network of farms that grow food & create living-wage jobs in neighborhoods throughout Philadelphia. The farm will generate revenue by selling what it grows to local eds & meds customers as well as to residents who lack access to, or cannot afford, fresh healthy food. We will grow for direct community benefit & use the food to engage residents in conversations about nutrition & healthy communities.
FULL CITY CHALLENGE JUDGES
Meet the Philadelphia-area food industry leaders who will serve as Judges at the Full City Challenge Main Event at Green Soul on February 19, 2019!
NICK BAYER : CEO & Founder, Saxbys
Nick Bayer has always been in the business of bringing people together, whether it's as one of Philadelphia Business Journal's "Most Admired CEOs" or as a consummate team captain since Little League. So when he created Saxbys in 2005, Nick never really considered it to be a coffee company — instead, it's a social impact company fueled by amazing food, beverage and hospitality. Saxbys has since grown from one corner café to a 30-unit, Philadelphia-based business with a singular mission: Make Life Better.
KIM CARTER: Vice President, The Enterprise Center
Kim began working for The Enterprise Center in 2014 and is currently a Vice President of Strategic Partnerships. This opportunity allows Kim to facilitate community and economic development opportunities in West Philadelphia that support entrepreneurship. In 2006, The Enterprise Center opened the Center for Culinary Enterprises which is a commercial kitchen incubator for food entrepreneurs. Kim is responsible for setting organizational strategy, raising funds, wrangling staff and businesses, developing and managing strategic partnerships, and generally managing the chaos. Kim's prior professional experience includes owning successful document management company named Disaster Planning & Recovery. Her role encompassed the coordination of strategies and tactics, implementation and operations in the field, planning, budgeting and achieving financial results. She has an undergraduate degree from Temple University, a MBA from Drexel University and graduate of the Leading for Change Fellowship at Drexel University.
HAN CHIANG : Proprietor, Han Dynasty
Taiwan-born Han Chiang is the proprietor of Han Dynasty, a Philly-founded Sichuan Chinese restaurant with multiple locations across Pennsylvania and New York. Known for his outspoken views and obsession with customer service, Chiang has been featured on Anthony Bourdain's The Layover as well as VICE Munchies.
Bill Golderer BILL GOLDERER President & CEO, United Way of Greater Philadelphia and Southern New Jersey
Bill serves as president and CEO of United Way of Greater Philadelphia and Southern New Jersey (UWGPSNJ), where he oversees the organization's work to fight poverty by investing in youth success and family economic stability. Bill leads UWGPSNJ's mission to harness, leverage and strategically invest the collective power of more than 100,000 donors, advocates and volunteers, to end intergenerational poverty in our region. Bill serves as senior pastor at Arch Street Presbyterian Church. Prior to joining UWGPSNJ, he was the founder of Broad Street Ministry, which enables cross-sector collaboration to lift people out of homelessness, and has become known for the inclusive service it extends to community members in need. As a result of his work at Broad Street Ministry, Bill also had the opportunity to co-found Rooster Soup Company, the nation's first for-profit, crowd-funded social impact restaurant that creates jobs and returns revenue to Philadelphia's most impoverished citizens.
ANUJ GUPTA : General Manager, Reading Terminal Market
Anuj Gupta is currently the General Manager of the historic Reading Terminal Market. In this role, he oversees all aspects of the nearly 80 merchant market's day-to-day operations including leasing, marketing, special events, as well as guiding the non-profit corporation's strategic direction. Prior to this role, Anuj served as Executive Director of Mt. Airy, USA. Prior to this position, he served in Mayor Michael A. Nutter's administration in a number of roles including Chief of Staff of the Department of Licenses & Inspections, and Deputy to the Managing Director. Prior to joining Mayor Nutter's administration, Anuj was an attorney at Ballard Spahr Andrews & Ingersoll, LLP where he practiced in the firm's real estate/affordable housing group from 2004-2007. In 2013, Anuj also opened his own restaurant – Jyoti Indian Bistro – a fast-casual south Asian restaurant in Mt. Airy.
ELLEN YIN: Founder & Co-Owner, High Street Hospitality Group
Ellen Yin is the founder and co-owner of High Street Hospitality Group (HSHG), which operates several of the most noteworthy restaurants in Philadelphia. In the two decades since launching the pioneering Old City bistro Fork, Yin has become a civic leader in the neighborhood, and serves on the boards of several arts and education nonprofits.