Greater Philadelphia Leadership Exchange (GPLEX)
GPLEX has been building civic muscle since 2005, convening diverse cross-sector leaders for highly curated learning-and-networking experiences. In 2023 our signature GPLEX Conference was held in New Orleans from September 30-October 3. Stay tuned for information about our 2024 conference.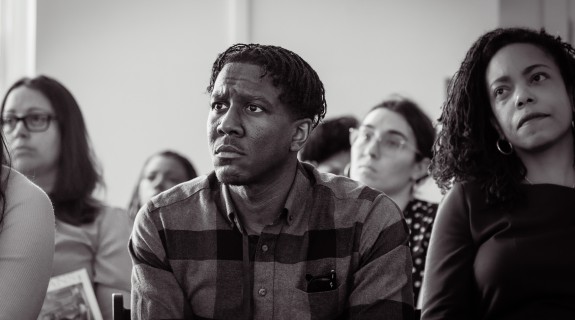 WHY GPLEX?
If you are an emerging or established civic leader seeking to 'find your tribe,' the Economy League's Greater Philadelphia Leadership Exchange is for you. With over 1,200 alums in the public, nonprofit, and private sectors, we are working to deepen connectivity and create spaces for collective solutioneering.

Through a combination of in-region programming and highly curated learning and networking field trips to other cities, GPLEX provides a unique opportunity to meet our region's present and future movers and shakers and see our region through the lens of another.

Since 2005 GPLEX has been helping to build civic muscle by exposing participants to cutting-edge policies, organizations, and programs in other regions and strengthening a diverse community of cross-sector leaders who are shaping a truly greater Philadelphia.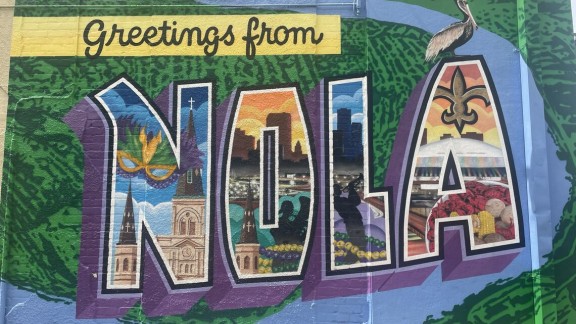 GPLEX 2023 New Orleans Video Recap
Get a taste of what was seen and learned during our 2023 GPLEX trip to New Orleans, LA
GPLEX360
In response to demand from GPLEX alums, we decided to expand our GPLEX program offerings beyond a 3-day, once-a-year conference. In 2022 we launched a series of lower-cost, lower-commitment in-region programs called GPLEX 360 to provide even more opportunities for learning and networking. Sign up for the GPLEX newsletter and get plugged in!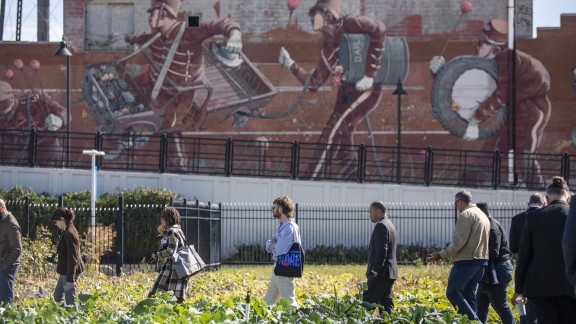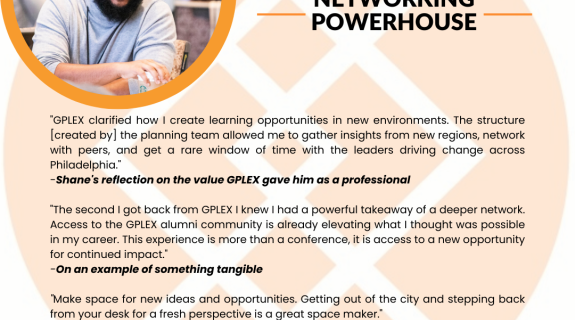 WHY WE GPLEX
Over 1,200 emerging and established Philadelphia leaders have discovered the power of the GPLEX network. Read some of their testimonials here...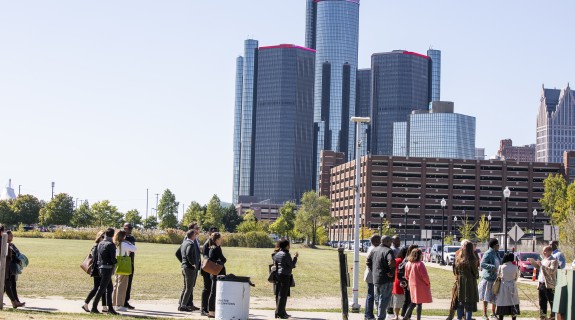 Past GPLEX Conferences
Since 2005 the Economy League has convened cross-sector Philadelphia leaders in peer cities to help us see our region through the lens of another.
Get the latest on GPLEX right to your inbox.
Subscribe to the GPLEX newsletter.
Frequently Asked Questions
Greater Philadelphia Leadership Exchange
We bring 100-200 leaders from Philly to another major city each year.
Are GPLEX 360 Events open to the public?
YES: most are application-based or ticketed.
Is there any cost to attend the annual GPLEX leadership conference?
Yes: costs vary based on the type of company you represent and financial need
The ticket price typically incudes conference meals and all conference activities.
The price does NOT include hotel acommodations or flights.
Have Additional Questions About GPLEX + GPLEX360