Past GPLEX Conferences
Since 2005 the Economy League has convened cross-sector Philadelphia leaders in peer cities to help us see our region through the lens of another. The GPLEX application process is competitive and consistently produces very diverse cohorts of emerging and established leaders.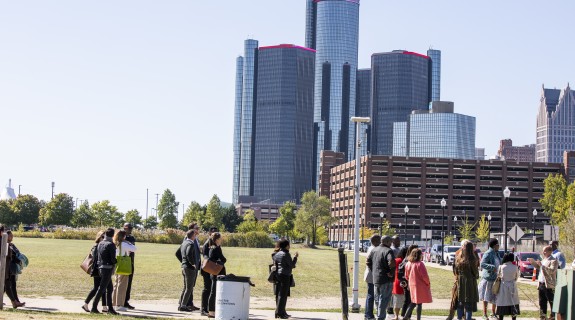 The Greater Philadelphia Leadership Exchange (GPLEX) is an initiative of the Economy League dedicated to convening leaders of business, civic, and government organizations.
Through year-long in-region programming and annual out-of-region excursions to other major cities, the Leadership Exchange and GPLEX360 programming exposes leaders to new insights and ideas, forges new connections across sectors and industries, and deepens participants' understanding of Greater Philadelphia's greatest assets. Since the inception of the Leadership Exchange in 2005, participants have consistently given the experience top marks for exposure to bourgeoning economies and ideas, building connections, and strengthening a community of leaders who are shaping the region's future.
Participation in the Leadership Exchange is a competitive process with a goal of representing the geographic, demographic, sector, and industry diversity in the region. To be eligible, applicants must live and/or work in the Greater Philadelphia region and serve in a leadership role in a business, nonprofit, or government organization.