2023 GPLEX: New Orleans
We've chosen the beautiful and dynamic southern jewel, the City of New Orleans, for the 18th annual GPLEX Leadership Exchange Conference! We'll be convening there on September 30-October 3, 2023. Scroll down to find FAQs and the conference schedule.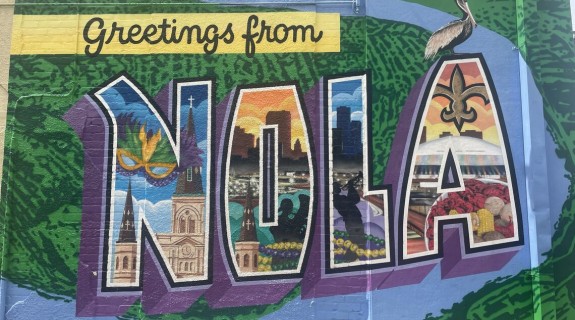 A word from our GPLEX Director...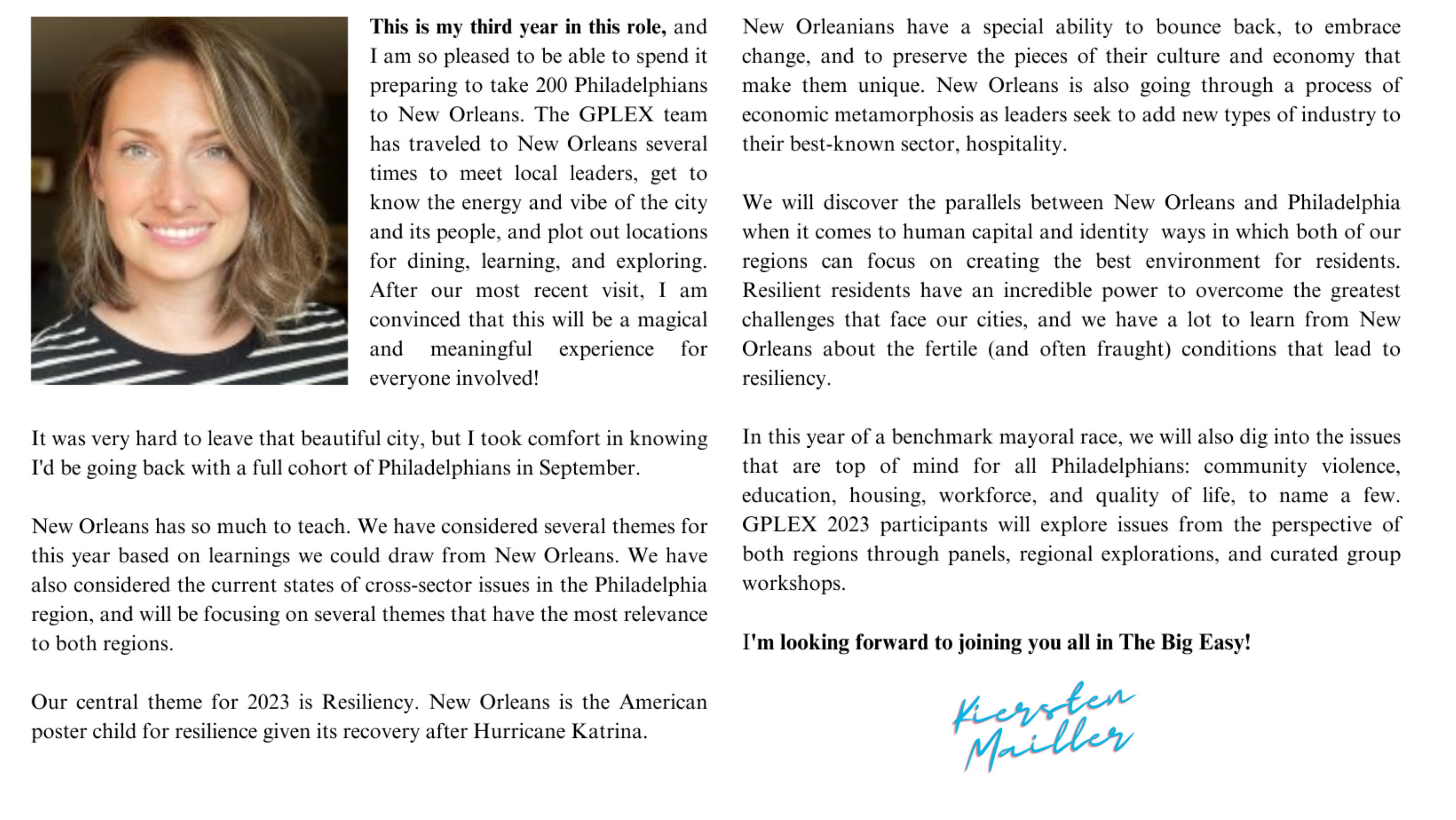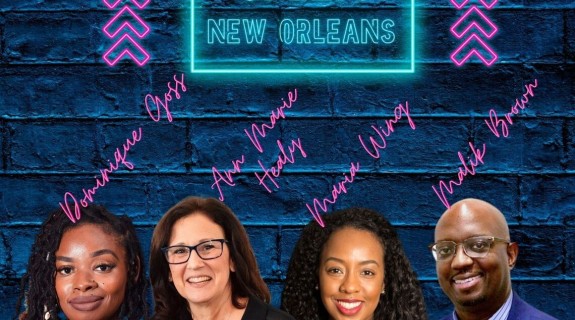 Meet our 2023 Co-Chairs
For our 18th GPLEX, we are joined by four esteemed leaders and GPLEX alumni who have been making waves across sectors. Our Co-Chairs are the front-facing leaders of GPLEX each year. They head up cohort recruitment and selection, inform conversation, and steward our group of impressive leaders throughout the conference week. These "leaders of leaders" have undoubtedly impressive resumes...and some thoughts about how to make real change for our region through the GPLEX program. Get to know them below!
Dominique, a native Philadelphian spent her freshman year at Howard University in Washington, D.C. She later transferred to Temple University where she received her Bachelor's degree and became more acutely aware of urban centers' socioeconomic issues. In college, she noticed poorer communities had fewer resources, like grocery stores, health centers, and quality schools. She now strives towards bridging the gap nationally for communities challenged with deep inequities.
In 2017, Dominique was featured in Generocity's, "12 people of color leading the social impact charge in Philadelphia." Additionally, she was honored by The Philadelphia Inquirer where she received the 2019 millennial philanthropist of the year, as the next generation of leaders in philanthropy. Most recently, the Social Innovation's Journal honored her as a "2021 Social Impact investor" award; acknowledging her sustained commitment to our most vulnerable communities.
Dominique dedicates her time with organizations impacting economic inequality & the racial wealth gap, financial stability, youth empowerment, and arts & culture. She also currently serves as board member, and chair of the Brandywine Health Foundation's Equity committee. She's a board member of Mural Arts Philadelphia and serves as Vice President for She Can Win; an organization focused on electing more women of color into public office. Lastly, she's a 2019-2020 Connecting Leaders Fellow with the Association for Black Foundation Executives (ABFE).
"There are so many reasons I'm excited about this year's GPLEX cohort, but I'll summarize it with three words. Connections, Cultivation, and Compassion!
Building and strengthening connections is the magic that fuels GPLEX. This is a unique event that enables leaders to have an immersive experience in another city while sharing space with likeminded colleagues.
The GPLEX team does an amazing job curating an experience which aligns to Philly's public, private, and philanthropic sector's goals. The cohort should be ready to cultivate and build upon the GPLEX ecosystem. #LeveragetheNetwork
Lastly, Philly has some of the most compassionate leaders I've had the privilege to work alongside. Dedicated time with one another in another amazing city (Crescent City) is one of the things I'm most excited for!
"This will be my 4th GPLEX and I'm honored to be one of the 2023 Co-Chairs. See you in NOLA!"
-Dominique Goss
Ann Marie Healy: Philadelphia Health Partnership
Ann Marie Healy is the Executive Director of the Philadelphia Health Partnership, a private foundation focused on improving the health and well-being of people in Philadelphia, particularly those who have faced barriers to opportunity. She has over 25 years of nonprofit management and development experience. Ann Marie began her career in nonprofit management as Vice President for Operations and Development of 10,000 Friends of Pennsylvania, a nonprofit dedicated to revitalizing cities and towns, conserving rural lands, and reducing sprawl. In addition, she served as the administrator for the Union Benevolent Association, one of the oldest charities in continuous existence in Philadelphia and as the executive assistant to the president of the Pennsylvania Environmental Council.
Ann Marie has served on many boards and advisory councils in Pennsylvania. She currently serves on the Board of Directors of the Philanthropy Network of Greater Philadelphia, Pennsylvania Association of the Education of Young Children and the Salem Health and Wellness Foundation in Salem County New Jersey. She is the co-chair of the Pennsylvania Health Funders Collaborative. A Drexel University Leading for Change Fellow, she holds a Bachelor's of Liberal Studies degree from Saint Joseph's University and is a graduate of the Nonprofit Executive Leadership Institute at Bryn Mawr College.
She spends her free time tending to her farm with its 280-year-old historic house and driving antique farm tractors. She shares her life with her husband, three sons and their families including four grandchildren.
With a career spanning close to 20 years, Maria J. Wing holds a consistent track record for delivering innovative strategies that have resulted in maximum profits while simultaneously providing community transparency and stewardship. Maria's straightforward approach to procurement, government contracting, strategic planning, commercial real estate development and government policy and relations is respected throughout the industry.
Maria's commitment to the growth of our region mirrors her devotion to the advancement of all Philadelphians. Over the course of her career, Maria has played an active role in organizations that address the social and economic needs of underserved and marginalized communities across Greater Philadelphia. Maria currently co-chairs the Friends of the Urban Affairs Coalition; and, as a member of the Board of Directors of the Pennsylvania Horticultural Society ("PHS"), Maria has helped lead fundraising efforts for the organization's Roots to Re-Entry Program, which is focused on creating economic pathways for citizens re-entering society after incarceration.
As a testimony to the impact of her work, Maria has received numerous professional honors and awards. In 2011, the Legal Intelligencer name Maria a Lawyer on the Fast Track. Maria was named in Super Lawyers as a "Rising Star in Real Estate" in both 2013 and 2015. In 2014, Maria was appointed a Fellow of the Leadership Council on Legal Diversity. In 2016, Maria was honored by the Philadelphia Tribune in its Most Influential Issue as one of the 10 People Under 40 to Watch. Also in 2016, Maria was honored by the Legal Intelligencer as a Top Woman in Law. In 2019, the William Penn Foundation awarded a grant to fund Maria's participation in Cohort 3 of the DiverseForce "On the Boards" Program, a partnership between the University of Pennsylvania FELS Institute and DiverseForce to increase the number of minority participants in nonprofit boards.
A devoted wife and mother, Maria continues to reside in Philadelphia with her husband of ten years, their eleven-year-old nephew and their five-year-old daughter
"In times of transition, leaders need space to regroup and reflect. GPLEX offers one of those rare safe spaces for Philly leaders to connect and collaborate. It is especially magical when this fellowship can occur in sister cities like New Orleans. We can learn so much from our counterparts in other cities. However, I find that these exchanges can also reveal so much about ourselves.
"GPLEX always represents for me a time to reset, renew, and refocus. Resetting goals, renewing relationships while replenishing reserves and allowing us to collectively refocus the goals and aims for our region.
"I love that we get to 'geek out' with like minded folks who are all working to bring prosperity to Philly and the region."
-Maria Wing
Malik Brown: Graduate Philadelphia
Malik Brown is a seasoned leader with a unique portfolio of cross-sector experiences. His work and impact span multiple industry sectors, including business, philanthropy, workforce development, and higher education. In his current role as president and CEO of Graduate Philadelphia, Malik is responsible for advancing the mission of adult degree completion, workforce credentialing, and community empowerment.
Over the course of his career, Malik has worked in finance, management consulting, and diversity equity and inclusion (DEI). His time with national organizations like Inroads, Accenture, and the United Way has provided him with a broad range of management insights and capabilities and workforce development credentials.
Malik is a passionate champion of social and economic mobility for vulnerable populations. He strongly believes in ongoing career development, sponsorship, and life coaching for those who are most disconnected from opportunity. He is a servant leader who is dedicated to the personal and professional development of others. Malik serves on the board of directors of Neumann University, the Economy League, Girard College, and City Year.
Malik attended Clark University in Worcester, MA where he earned his BA and MBA. Malik is also a graduate of the Harvard Business School Executive Education Program – Strategic Perspectives in Nonprofit Management. Above any other personal or professional accomplishment, Malik is most proud of his two daughters, Aleena and Myka.
"Perhaps now more than ever, we are in a season of both promise and uncertainty. Returning to pre-pandemic norms and behaviors are just not in the cards. As a city and region, we must set our collective aims toward a future shaped largely by technology and innovation and growing calls for equity and justice.
"The Greater Philadelphia Leadership Exchange (GPLEX) is one of the premier programs in our region. It combines the very best of executive education, professional networking, information sharing, and relationship building. At this pivotal time, GPLEX New Orleans offers a unique space to gather critical insights and generate bold solutions. As business and civic leaders, we have an opportunity to represent the voices and aspirations of our fellow citizens and claim a future that we can all be proud of."
-Malik Brown
Frequently Asked Questions
All 250 accepted applicants.
+ Do you know someone who currently lives in New Orleans who would be a great attendee at this conference? Let us know so we can invite them to our on-site programming!
Attend intimate networking opportunities with a +175-person cohort and an alumnae network of +1250 attendees.Establish social capital by deepening your network cross-industry and cross-sector, thus creating more opportunities to attend in-person events, foster collaborations, develop new programs, and make local friends.Learn about the best practices, programs, and policies in other organizations, Philadelphia, and other regions to evolve.Grow your understanding of issues that affect our region by learning how other cities handle similar challenges.
The majority of the conference will take place on site in our host hotel on Canal St in downtown New Orleans.
We will also make our way out into the surrounding region during two days of Regional Explorations: locations and details of the explorations are subject to change, and will be finalized within the final month before the event.
Rooms will be available at our hotel on Canal Street in Center City New Orleans. A group block link to our hotel booking platform will be provided upon acceptance. Rooms are limited to the first 140 signups. Attendees will pay for their own hotels, but at a discounted group rate.
Attendees may choose to stay elsewhere: AirB&B is not allowed in the French Quarter, but there are many options within a mile walk or a short cab ride to the hotel. The hotel will be the main base of operations.
Suggested Flight from PHL to MSY
It is recommended that attendees fly into Louis Armstrong Airport. American Airlines, Southwest, and Delta all offer nonstop flights. Attendees will cover their own airfare.
Recommended Saturday flights to New Orleans:
3h 2m flight 
American Airlines 2166
Airbus A320

8:20am - 10:22 am
3h 2m 
American Airlines 2167
Airbus A319

1:35pm - 3:37 pm
4h 53m 
Delta 2582
Boeing 757

8:00 am - 11:53 am
----------------------------------------
Recommended Tuesday flights to Philadelphia:
2h 55m flight 
American Airlines 2167
Airbus A320

4:10pm - 8:05pm
2h 55m flight 
American Airlines 2166
Airbus A319
1:55pm - 5:50pm
2h 10m flight
American Airlines 1793
Airbus A321
4:25pm - 9:47pm (1 stop)
GPLEX 2023 Day-by-Day
Proposed Schedule
*subject to adjustment*
Day One: Saturday September 30
| | |
| --- | --- |
| 1pm: |  City Tours (French Quarter History Tour for 20 guests with Unique NOLA), open exploration, unstructured networking |
| 4pm:  | Registration Begins |
| 5:30pm: | Champagne Welcome Reception with Jazz band at Hotel |
|   |   |
Day Two: Sunday October 1
| | |
| --- | --- |
| 9am: | Registration and Breakfast |
| 9:30am: | Welcome Remarks |
| 10am:  | Keynote Presentation: Jonathan Johnson of Rooted School |
| 10:45am:  | Group Panel: Community Violence Conversation with Tulane |
| Noon | Lunch with workshop groups |
| 1:30pm: | Round 1 of Regional Explorations |
| 5:15pm: | Conversation groups |
| 6:30pm: | Dinearounds |
Day Two Regional Explorations: 1:30 PM – 4:30 PM
Environmental Justice + Housing

 

A Visit to the Lighthouse Project followed by a bus tour through St. Bernard Parish and the 9th Ward

You might like this if:

You are interested in housing
You are interested in community engagement
You are focused on sustainability issues
You are curious about surrounding neighborhoods in the region
You would like to see development post-Katrina

Lighthouse Project, St Bernard Parish and 9th Ward

 

This tour will focus on environmental justice through the lenses of housing, education, and local solutions. We will begin at the Lighthouse Project and will also see neighborhoods of St. Bernard Parish, and the 9th Ward. We'll begin our journey at the Lighthouse Project, where you'll have the chance to learn about the innovative approach to sustainability and community development spearheaded by Together New Orleans.

 

From there, we'll drive through the historic St. Bernard Parish and stop to appreciate the stunning architecture and cultural landmarks that make this area so special. Finally, we'll head to the 9th Ward, where you'll see how this once-devastated area has been transformed through community-driven revitalization efforts. Many different housing styles and attempts to build affordable housing can be seen on this trip.

 
Downtown Planning

 

You might like this if:

You want to get a feel for the urban core
You are interested in development and planning
 
You want to see the structural changes in the works for NOLA
 
You are curious about large scale land use issues 

Downtown Development District: Walking Tour

 

In this walking tour, we'll delve into the planning and development of the Downtown Development District, learning about the efforts to create a thriving and sustainable urban core that benefits both residents and visitors. This tour offers a unique perspective on the dynamic and ever-evolving city of New Orleans.

 
Tourism Equity

 

Walk + small group conversations

You might like this if:

You are interested in the evolving New Orleans economy
You have an interest in sustainability 
 
You are curious about inclusive tourism
 
You want to learn more about the city's largest sector
 
You want to see direct parallels between Philly and NOLA

Convention Center + Additional Locations: Walking Tour

 

This regional exploration will focus on the efforts in the tourism industry to diversify and support local community. New Orleans is supported in large part by its tourism industry, and it is the most well known and obvious sector in the region. Culture, art, food, drink, and architecture are the main ingredients of this endeavor, but we will delve into the people who have built this industry and the forces changing it for the better. Several parties seek to make the sector more inclusive nation-wide, and our very own Philadelphian Gregory DeShields is working with his team on the ground in New Orleans to tackle this issue. We will visit some of the prominent visitor locations and discuss the constants and changes in this industry. 

We will learn about the implementation of a DEI strategy by the convention center in New Orleans (with the help of Phildelphia-area talent, Greg DeShields and Tourism Diversity Matters), gain insight around social impact. 

The convention center and other major tourist entities in New Orleans have made an astounding rebound from COVID, which is another testament to the resiliency of New Orleanians: they have experienced what can be considered unusual growth in the tourism industry despite the impacts of COVID. 

 
Arts and Culture

 

You might like this if:

You are a fan of visual arts
 
You want to see the contrasted worlds of French Quarter art galleries and the burgeoning art scene in other parts of the parish
 
You are curious about racial representations in art
You are interested in the history of local art and music
 
You want an immersive arts experience

French Quarter Gallery Tour, Jazz Museum (Bus and Walking tour)

 

Join us for an unforgettable exploration of New Orleans' visual arts culture! Our journey will take us through the historic French Quarter, where we'll delve into the city's rich artistic heritage. The highlight of our adventure will be a visit to the renowned New Orleans Jazz Museum, where we'll immerse ourselves in the captivating world of jazz and discover the influence it has had on the city's vibrant artistic scene.


Led by our expert guide, we'll embark on a group exploration of the New Orleans Jazz Museum. Here, we'll encounter captivating exhibits that showcase the city's dynamic graphic arts scene, celebrating the unique fusion of jazz and visual creativity. The museum is a testament to the remarkable cultural heritage of New Orleans and its ongoing artistic evolution.


After our visit to the New Orleans Jazz Museum, we'll return to the French Quarter and divide into smaller groups to explore a carefully curated selection of art galleries. These galleries encompass a diverse range of artistic expressions, from contemporary to traditional, providing a comprehensive representation of New Orleans' captivating creative energy.
Food Economy

 

You might like this if:

You want to learn more about the food economy and history in New Orleans
You are curious about how race, politics, and culture play a part in the New Orleans food scene
You want a cultivated, immersive experience from sea-to-table
You are curious about how food and community are connected in New Orleans

Tour of local food distributor
Secret Second Location
Private Dinner
 

This session will focus on the ever-evolving Food Economy of the city. It will offer a unique perspective on the food culture and economy of New Orleans, from sea to table, and brief participants on the history and culture of local food.

We'll start at a post-side seafood distribution facility to learn about the rich history of the seafood industry, a long-thriving economy that is becoming increasingly outsourced. Next, we'll head to a secret location where participants will take a class on one of the most cherished pieces of New Orleans culture.

The group will then enjoy a private dinner as part of their Dinearound experience which will feature classic local cuisine in a popular New Orleans restaurant. 

 
Day Three: Monday October 2
| | |
| --- | --- |
| 7am: | Optional morning wellness: Yoga |
| 9am: |  Breakfast |
| 9:30am:  | Group Panel: Building a Resilient Public  |
| 10:45am:  | Workshop |
| 12:30pm:  | Lunch |
| 1:45pm:  | Round 2 of Regional Explorations |
| 4:45pm:  | Breakout conversations (Justice, Food Economy) |
| 7:00pm:  | Evening Reception *ime changed by 30 minutes to provide additional buffer |
| 8:30pm: |  Afterparty options |
Day Three Regional Explorations: 1:45pm - 4:15pm
River Commerce

 

You might like this if:

 

You are interested in the New Orleans economy
 
You would like to see how  the ports of the region operate
 
You want to hear about the history and future of trade
 
You are hoping to see the city from a unique angle

Port NOLA: boat tour

 

Ask any New Orleanian and they'll tell you: the river is life and death for their city. The region's relationship with the river is complicated and vast: commerce, identity, food, history, and disaster all stem from the mighty Mississippi and her surrounding waterways.

We'll start at Port NOLA, one of the busiest ports in the United States, where you'll see first-hand the massive ships and cranes that are responsible for moving goods around the world. Visitors will hear from the coast guard and learn about burgeoning efforts in the Innovation District.

Visitors will also enjoy a trip along the river in a PORT NOLA tour boat to see the big picture from the water. 
High Growth Startups: Diversifying the Economy in a Tourist City

 

Tour Idea Village, talk, mostly conversation-based

 

You might like this if:

You are focused on entrepreneurship and small business support
If you are interested in workforce development
 
You want to learn about the venture-backed landscape in New Orleans
 
You are curious about innovative practices coming out of small businesses
 
You are interested in economic issues

Idea Village, Venture for America, NOLABA:, Propellor 

 

Join us for an insightful session delving into the economic diversification of the historical tourism city, New Orleans. We will explore how the city has been strategically broadening its economic landscape, drawing parallels between New Orleans and Philadelphia's business support structures. This engaging event will shed light on workforce development issues and innovative initiatives fostering local entrepreneurs.


During the session, we will visit the innovative coworking space, The Shop, which houses The Idea Village, where entrepreneurs receive exceptional support and resources. You'll witness firsthand the dedicated efforts to nurture startups and businesses of all sizes in the region. The Idea Village has worked diligently to create a brand explicitly supporting local entrepreneurs in New Orleans and the greater region, providing them with the tools they need to thrive.


Prepare to engage in enriching conversations with industry leaders from Nola Business Alliance, The Idea Village, and Propeller, as they share inspiring stories of successful ventures. Gain invaluable insights into the unique challenges and opportunities of running a business in the vibrant city of New Orleans. These organizations will offer valuable information about the diverse resources and support available to entrepreneurs and small businesses within the city.


Don't miss this exceptional opportunity to explore the multifaceted approach that New Orleans is employing to diversify its economy while fostering a thriving entrepreneurial ecosystem.
 

 
Justice and Anti-Recidivism

 

You might like this if:

Crime, justice, and policing are top of mind for you
 
You want to learn about this topic from several angles and hear from people who have various experiences within the system
 
You want to learn about new technology and approaches for addressing crime
 
You are interested in the social and personal effects of crime and policing

Real-Time Crime Center, Family Justice Center

 

In both New Orleans and Philadelphia (as well as in many major cities around the country), the topic of justice is pressing and complex. In this session, we will seek answers to questions such as:  How does the reentry program support individuals who have been released from incarceration? What are the challenges that they face, and how can they be overcome?

We'll visit Project NOLA, a "real time crime center" to learn more about the role of law enforcement and technology in ensuring public safety. How do these entities work together, and what challenges do they face in protecting the community?

Next, a visit to the Family Justice Center in downtown New Orleans to learn about how victims of domestic violence are cared for and connected to wrap-around services. What impact does this program have on the community, and how does it address systemic issues related to poverty and inequality? Join us on this thought-provoking and informative tour to gain a deeper understanding of the complex issues surrounding Justice in New Orleans. This tour included a joint panel conversation which will take place back at the conference headquarters later in the day.
Education: Past, Present and Future

 

You might like this if:

You are interested in history
 
You are interested in racial politics and the experiences of People of Color
 
You are interested in education
 
You have questions about the public and charter school system

Leona Tate Foundation 

 

Education has a unique history in New Orleans: After Katrina, the public schools were nearly completely transitioned to a charter school system. New Orleans is also the location of some of the first school integrations in the country: While Ruby Bridges was pioneering desegregation at the William Frantz Elementary School down the road, three little girls were doing their part at McDonogh Elementary in the 9th Ward.  

We'll start by visiting the Leona Tate Foundation, where you'll learn about the courageous story of the McDonogh Three, who were among the first Black students to integrate New Orleans schools in 1960. You'll gain insights into the challenges they faced and the impact their activism had on the Civil Rights Movement.

Next, we will sit down for a conversation with local education experts to explore the valuable lessons that NOLA's unique history in education has for Philadelphia's schooling system. This discussion will involve representatives from NOLA Public Schools administration, KIPP Charter, and community activists. Together, we will learn from their experiences and expertise, paving the way for a thought-provoking exchange.

By examining the historical context and engaging with education experts, our journey offers a powerful opportunity to understand the transformative path of education in New Orleans and its implications for other regions like Philadelphia.

 
Pandemic, Pestilence, and Plague

 

You might like this if:

You are interested in history
 
You are interested in health, city transformation, and social responses to crisis
 
You are curious about how health crises affected the landscape and economic practices of citizens
 
You enjoy an expert walking tour

Walking tour: Downtown (Limited to 15)

 

Join our favorite Unique NOLA tour group guide on a walking tour of center city and the French Quarter to learn about the health history in New Orleans.

 

Infectious outbreaks have plagued New Orleans for centuries. If you're a bit curious about the strange history of our city, you'll want to look no further than our relationship with disease.

 

We'll take you on a historic and strange tour of the squalid conditions of mass disease that New Orleans has encountered. We'll also tell inspiring tales of coping with filthy and foul conditions.

 

Walk with us to uncover how epidemics such as Yellow Fever, Cholera, and more have infected our inhabitants and how our resilient city recovered. We'll talk about odd medical practices of long ago, including how voodoo and religion played a part in trying to contain the "uncontainable."
Day Four: Tuesday October 3
| | |
| --- | --- |
| 9am: |  Breakfast |
| 9:30am:  | Breakout Conversations: Tech and Quality of Life, Tourism Equity |
| 10:45am: |  Final connections in small group conversations |
| 12:30:  | Closing remarks and award ceremony |
| 1pm: | To-Go lunch |