Cross-Sector Collaboration
Real Estate and Construction
100 Real Estate and Construction Professionals Unite to Explore Challenges in Diversity and Inclusion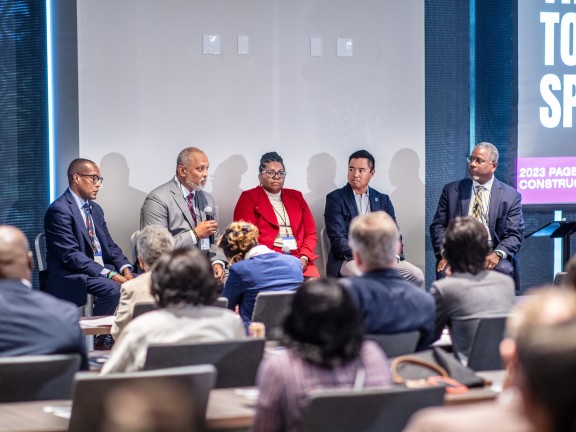 100 Real Estate and Construction Professionals Unite to Explore Challenges in Diversity and Inclusion
Real Estate and Construction professionals from across Greater Philadelphia gathered at FS Investments HQ at the Navy Yard on August 9 for the Economy League of Greater Philadelphia's first PAGE Real Estate & Construction Summit to discuss the current state of diversity and inclusion within their industry. Sponsored by LF Driscoll, Gilbane, Turner, Pennoni, P.Agnes and The Bellwether District, the summit focused on challenges and opportunities for improving diversity and inclusion in the industry, with an emphasis on large institutions.
The Summit kicked off with a critical dialogue about institutional risk aversion to hiring smaller, diverse firms. Senior VP of Real Estate at Childrens Hospital of Philadelphia, Donald E. Moore, led an engaging discussion with BIPOC real estate professionals about how to overcome risk aversion by making cogent value proposition arguments. "I need to know, why choose your firm," asked Moore.
The second panel, moderated by Andreina Perez-Hein, Executive Director of Everybody Builds, a new nonprofit established explicitly to diversify the industry's workforce, provided valuable context about how the City of Philadelphia pioneered the notion of diverse participation on public works projects. "The current Economic Opportunity Plan framework derived from community pressure in the 1970s to ensure that taxpayer-funded construction projects employ a workforce that reflects the city," said Urban Affairs Coalition CEO Sharmain Matlock-Turner. "Unfortunately we still have a long way to go." Lily Reynolds, Director of Federal Infrastructure Strategy for the City of Philadelphia, noted that historically underutilized businesses are in demand as federal infrastructure dollars begin to flow: "We must ensure that our industry is creating opportunities for all types of businesses and individuals who want to participate in public works contracting," said Reynolds.
The substantive portion of the event concluded with a fireside chat between PAGE Director Kenyatta James and Philadelphia Commerce Director Anne Nadol, who emphasized the important role city government has played in boosting BIPOC-owned firms through progams like Rebuild, which hired almost exclusively BIPOC contractors to rebuild the City's recreation centers. Nadol also mentioned the nascent Supply Philly initiative, which will aim to leverage city dollars to create more opportunity for BIPOC owned companies in coming years.
Prior to adjourning to a reception catered by Ms. Dawn's Catering, several major construction firms previewed their upcoming projects and encouraged the smaller BIPOC-owned firms to consider partnering. Firms such as LF Driscoll, Turner, and Target are slated to build well over $2Bn in new projects in our region in the next few years.
Judging by the fact that participants networked well beyond the official 7pm end time of the event, the summit was a great success. "We have assembled a very broad table of participants in the institutional construction space and have begun to address some of the key barriers to equitable participation in this multi-billion industry," said PAGE Director, Keyatta James at the conclusion of the event. "I'm cautiously optimistic that with continued intentionality we can move the needle much further in the coming year."
To learn more about PAGE: Philadelphia Anchors for Growth and Equity, go to www.economyleague.org/page
*****
About the Economy League of Greater Philadelphia
The Economy League of Greater Philadelphia fosters equitable and inclusive growth in Greater Philadelphia by producing impactful, nonpartisan research, connecting diverse leaders, and advancing shared solutions. The ELGP is our region's independent 'think-and-do tank,' founded in 1909 by progressive business leaders united by the belief that business has a civic responsibility beyond profit-making, and that it is the citizens business to ensure that local government and the local economy work for all. For more information, visit www.economyleague.org
About the Philadelphia Anchors for Growth and Equity
PAGE: Philadelphia Anchors for Growth & Equity is a partnership between the Economy League of Greater Philadelphia, the City of Philadelphia, and more than a dozen Philadelphia-area institutions that leverages institutional purchasing power to create growth opportunities for diverse Philadelphia businesses, strengthen the local economy, create jobs, and build wealth. PAGE aims to foster equitable and inclusive growth and to help close racial wealth gaps in Greater Philadelphia.