2023 Well City Challenge Finalist Blog: Creating a Community Online through Nightlife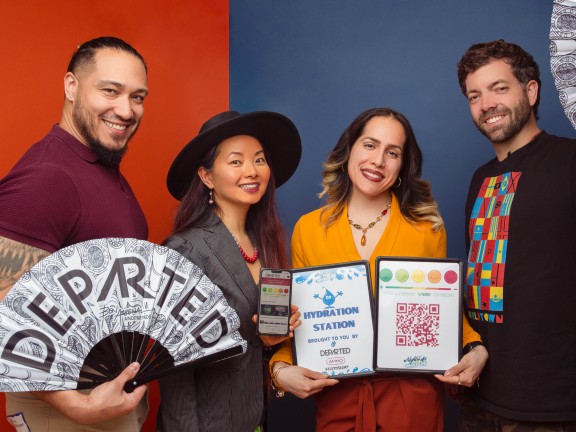 Creating a Community Online through Nightlife
Team: EPIC Life by Eric Jefferson, Julie Jefferson, SiNae Pitts and Ben Schneible

Eric Jefferson, Julie Jefferson, SiNae Pitts and Ben Schneible founded EPIC Life, a Philadelphia-based app meeting millennials in the activities they are already interested in. EPIC Life is a finalist for the 2023 Well City Challenge.

Through reconnecting with the nightlife community after an unprecedented time, we all realized many people are struggling with the same issues of isolation and loneliness. Our team is working to create an online community and wellness tool to bring safe and positive changes into this scene. This passion project of ours has become a way for us to connect and reflect on our experiences in order to curate a tool for community organizers and businesses to create more safe spaces.
With our app, EPIC Life, we are aiming to meet users where they are already activated, such as nightlife. This app serves as an online platform for all types of events, but also gives prompts to encourage healthier choices and best practices when going out and even mental and physical health check-ins. Our ultimate goal is to help the nightlife community create a healthy and safe life balance through the use of our online engagement platform.
As we continue in the Well City Challenge, we have completed the pitch process and are now developing our pitch into an app ready for beta testing. We are currently inviting everyone from event curators to producers through our team's professional network to connect with us for our beta testing and survey in our first draft of the app. We also plan to connect with local community organizations to share event information and maintain a collective community calendar where app users can see their wellness resources and nightlife events all in one place.
We are excited to begin the surveying and testing process, which is incredibly valuable to creating and perfecting our online platform. We are working with users and event organizers to make this app a tool to make life easier and promote healthy choices within our community where it can be needed most. Through surveys and wellness prompts, we can connect with both organizers and attendees to learn the core goals for each event in order to make it a safe space.
As event attendees, your safety is important, and you want to ensure you are going to a safe place where you are going to have fun. For event organizers, this app allows you to create a stream of revenue and have another organization tool to communicate and work with those who are planning on attending your event. As we continue to work on our online platform, our goal remains to meet people where they are, helping communities make healthier and safer choices, and build a platform that all can benefit from.
Visit our website here! https://departed.ammoapps.com/