Developing Diverse Local Business
Economy League Launches The PAGE 100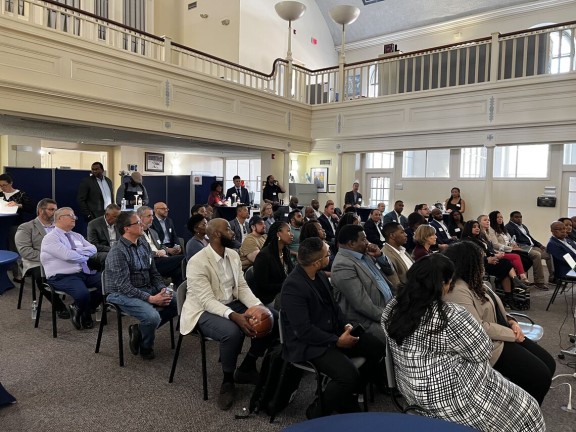 The Economy League Launches The PAGE 100 – an Index & Cohort of Diverse Firms Pre-Qualified for Institutional Supply Chains
On April 20, 2023 the Economy League convened nearly 100 diverse business leaders and institutional supply chain professionals at Episcopal Community Services to launch a new index of the health of Philadelphia's diverse business ecosystem, the PAGE100.
PAGE100 is the next logical step in the evolution of the PAGE (Philadelphia Anchors for Growth & Equity) initiative: a cohort of firms that is ready, willing, and able to take on institutional contracts, at the same time as it will serve as an index of diverse business health.
"PAGE100 is something I've been looking forward to for years! Instead of relying on proxy measures like the volume of dollars spent with diverse firms, PAGE100 will measure what truly matters," said Harold T. Epps, former Philadelphia Commerce Director and current co-chair of the PAGE Advisory Committee.
Attendees at the PAGE 100 launch event were treated to a wealth of knowledge from panelists including Vincent Gumbs of the University of Pennsylvania, Alexandra Gordon of the African American Chamber of Commerce for Greater Philadelphia, and Javier Suarez of the Greater Philadelphia Hispanic Chamber of Commerce. These experts shared their insights on staying tenacious and persistent in order to be successful in today's ever-changing market.
"By creating a cohort and an index of our region's most vibrant BIPOC-owned firms, we will be able to help our anchor institutions more readily locate the suppliers they need, while at the same time allowing us to track the health of the ecosystem," said PAGE Director Kenyatta James.
In the past 5 years, the Economy League has built the most innovative anchor collaborative in the country, PAGE (Philadelphia Anchors for Growth & Equity). With committed institutional partners, deep support from the City's Commerce Department, and an extensive network of allies, PAGE has mapped institutional procurement opportunities, created new pathways for access to capital such as the Hurdle Fund, and invested in purpose-built business development initiatives like Scaling Up Philadelphia to lower barriers to success for local diverse firms.
Scaling Up Philadelphia is a curriculum designed for growing profitable and sustainable diverse-owned companies. "The curriculum provides entrepreneurs with the tools, resources and operating system they need to be successful. We strive for our graduates to reach new heights: PAGE100 Index status," said Cheryl Beth Kuchler, president of CEO Think Tank, which runs Scaling Up.
"You could certainly implement an operating system alone but it is so much easier when you have a program like Scaling Up Philadelphia that combines a peer-to-peer experience with the opportunity to learn together, create a plan and then implement," said Karla Trotman, President and CEO of Electro Soft Inc., an American electronics contract manufacturer specializing in PCB, cable, wiring harness and enclosure assemblies for clients in aviation, rail, transit, OEM, and defense for over 35 years. Read more success stories from our Scaling Up Philadelphia graduates here
Philadelphia's "eds-and-meds" anchor institutions spend over $5 billion a year on goods and services. PAGE is devoted to ensuring that more of that spend stays local and helps to build the capacity of local, diverse firms.
"The health of our local diverse firms IS the health of our economy. The PAGE100 will be our S&P 500, our Dow Jones Index, measuring what matters," said Economy League Executive Director, Jeff Hornstein. "We look forward to growing the PAGE 100 into the PAGE 500 over the next few years."
Related News
There are no recent news posts for this topic.