Kenyatta James, PAGE Director, Wins 2023 Greater Philadelphia Social Innovations Award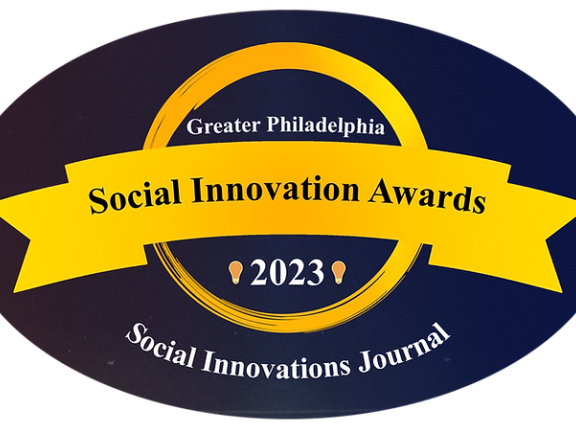 Social Innovations Journal announce the WINNERS of the 2023 Greater Philadelphia Social Innovations Awards
 
GREATER PHILADELPHIA – On Thursday, January 26, 2023, The Social Innovations Journal (SIJ) hosts the 2023 Greater Philadelphia Innovation Awards (www.philadelphiainnovationawards.com) where Greater Philadelphia's Social Sector Leaders presented awards in Human Services, Social Mobility, Education, Arts and Culture, Systems and Policy Change, and Health to 54 Finalists (https://www.philadelphiainnovationawards.com/2023-winners).  The Social Innovation Award Finalists were selected through an open nomination and public voting process by residents of Greater Philadelphia. 

The theme of the awards, "Achieving a More Just Society," recognizes organic leadership who re-envision the challenges that communities face and find innovative solutions to reshape communities.  Nikolaj Hansen-Turton, Manager of The Greater Philadelphia Innovation Awards, stated "The 2023 Awards' theme symbolizes that social sector drives true innovation and, in that innovation, a more equitable environment from changemakers." 

Nicholas Torres, Co-Founder of the Social Innovations Journal stated, "these awards honor our region's most passionate social innovators, entrepreneurs and changemakers whose work and social impact too often goes unacknowledged, yet their efforts are what makes our communities across Greater Philadelphia the thriving region of innovation and opportunity they are for all people".  Tine Hansen-Turton, Co-Founder stated "these awards are Greater Philadelphia's most valued Social Sector Awards because finalists were nominated and recognized by colleagues who "know" who are authentic regional change agents."

The Social Innovation Awards have been sponsored by the regions organizational social sector leaders including: Independence Blue Cross Foundation; Woods Services; The Science Center; Homestead Smart Health Plans; RSM; Johnson Kendall Johnson; Legacy Treatment Services; harp-weaver LLC; UPENN Social Policy and Practice; UPenn GSE; Caring People Alliance; and Graduate! Philadelphia

The Social Innovations Awards was hosted by Rev. Dr. Lorina Marshall-Blake, MGA, FAAN who is president of the Independence Blue Cross Foundation leading strategic, programmatic, and operational efforts to fulfill the Foundation's mission to lead sustainable solutions that improve the health and wellness of the community. 


The Social Innovation Award Presenters include Greater Philadelphia Industry Thought Leaders and the 2022 Award Winner including:

•    Phil Brooks, Director of STEM Workforce Partnerships
•    Malik Brown, President and CEO, Graduate! Philadelphia
•    Steven R. Carson, Senior Vice President, Population Health
•    David Castro, CEO, I-LEAD
•    Nancy De Leon Link, Chief Administrative Officer, Homestead Smart Health Plans
•    Kevin Dougher, Vice President and Partner, Johnson Kendall Johnson
•    Latoya Edmond, Regional Director, CareerWorks$ 
•    Edison Freire, Urban Technoloy Project
•    Michael Golden, Executive Director and Senior Fellow, Catalyst@Penn Graduate School of Education
•    Katie Hall, Executive Director of Philanthropitch 
•    Maya Heiland, Director of STEM Education Initiatives, University City Science Center
•    Jamie Hughes, Vice President of Programmatic Development, CONGRESO DE LATINOS UNIDOS, INC
•    Michele Juliana, Principal, RSM Business Applications
•    Jane Kuntz, Associate Director, Innovative Programs, Catalyst @ Penn GSE
•    Roy Leitstein, Chief Executive Officer, Legacy Treatment Services
•    Nicole Lipkin, Founder & CEO of HeyKiddo
•    Jerry Macdonald, President and CEO of Caring People Alliance
•    Cheryl Mackey, Lead Financial Empowerment, United Way of Greater Philadelphia and Southern New Jersey
•    Heather (Falck) Major, Executive Director, Independence Blue Cross Foundation at Independence Blue Cross
•    Kathleen Mullin, Director of Housing Initiatives, AmeriHealth Caritas
•    Teresa Rodgers, Principal, Harp-Weaver LLC
•    Adam Roth-Saks, Administrative Director, Nonprofit Leadership Program, School of Policy and Practice at University of Pennsylvania
•    Rob Stiles, Vice President Business Development and Director, Endowments & Foundations at the Haverford Trust Company
•    Megan Tumolo, Director of Development, University City Science Center



The Winners are…
SOCIAL INVESTORS:  INNOVATIVE INVESTOR STRATEGIES.  Innovative Investment Strategy leading to Diversity, Equity, and Inclusion.

1st: Pennsylvania Horticultural Society, Represented by Sin Gogolak
*2nd: Kenyatta James, Philadelphia Anchors for Growth & Equity *
3rd: Kimberly Kirn and Impact 100 Philadelphia
RUNNERS UP: 
Kelly Woodland, LEADERSHIP EQUITY United Way
Jill Fink and Merchants Fund

NOT FOR PROFIT: SOCIETAL IMPACT.  Innovative approach that respond to people and society's priority needs today and in the future.

1st: The Wardrobe, Represented by Sheri Cole
2nd: David Fair, Philly Homes 4 Youth Coalition
3rd: Mariana Folco, Students Run Philly Style
RUNNERS UP:
Emancipet, Represented by Jenna McElroy-Tripp 
Leanne Cronin, Congreso de Latinos Unidos
MK Newell, Throw Like a Woman, Social Impact Services

COMMUNITY IMPACT: INNOVATIVE PARTNERSHIPS. Innovative cross-sector approach to solving complex social and environmental issues on a large scale.

1st: Legal Clinic for the Disabled, Represented by Theresa Brabson 
2nd: Jerome Shabazz, Executive Director, Overbrook Environmental Education Center
3rd: Martie Bernicker, Speak Up
RUNNERS UP:
Jessica Nocho, Clarifi Housing Counselor
Michael O'Bryan, Humanature

RACIAL JUSTICE: Models that address the six principles for collaborative practice that promote equity and justice.

1st: Rev. Dr. Michelle Anne Simmons, Why Not Prosper
2nd: Hailey Gould, Woods Services 
3rd: Melissa Page Peter, Mi Casita
RUNNERS UP:
Jennifer Faustman, Belmont Charter Network
Samuel A. Reed III, U School / SriiiConsulting

WORKFORCE DEVELOPMENT. Innovative service models leading to earning a living wage and economic freedom. 

1st: Kathryn Lipman, Pathways to Housing PA
2nd: Shirley Moy and Claire Pope, Owl collective
3rd: Denise Brunker, Congreso de Latinos Unidos
RUNNERS UP:
Nicole "Nikki" Pumphrey, Per Scholas Philadelphia
Kena Sears Brown, Goodwin College of Professional Studies Drexel University

EDUCATION ENTREPRENEURSHIP - DIRECT CONSUMER. Innovative ideas to develop new ways to advance education in novel and meaningful directions.

1st: Barbara Greenspan Shaiman, Champions of Caring
2nd: Nate Bronstein, SmartTrack, LLC
3rd: Bryan Dinner, Clarifi
RUNNERS UP: Loralyn Mears, PhD, STEERus

EDUCATION ENTREPRENEURSHIP - INNOVATION DURING COVID-19. Innovative ideas formed from the realities of COVID-19 and its impact on education.

1st: Rowana Miller, Cosmic Writers
2nd: Barbara Grimm, School Responder
3rd: Lucas Ostrowski, Education Technology Professionals, LLC
RUNNERS UP: Gina M. Moore, AJO Vista/ Revolution School

COMMUNITY BEHAVIORAL HEALTH.  Innovative service models leading to emotional, psychological, and social well-being.

1st: Andrea Rodgers, Starfinder Foundation
2nd: Karly Forman, Raise the Bar Family Services
3rd: Dr. Sailaja Musunuri, Woods Services and RL Health, PC
RUNNERS UP:
Susanne Fink, Judge Gregory Hines, Judge John Bailey, Chester County Office of MH/DD and Chester County Magistrate Court.
Jonathan Muruako, Fitalyst

HOUSING AND COMMUNITY DEVELOPMENT. Innovative service models leading to stable/permanent housing.

1st: Housing Opportunities Program for Equity (HOPE), Represented by Joanne Craig and Jordan Casey
2nd: Bill Maroon, Pathways to Housing PA
3rd: Thom Webster, Black Squirrel Collective
RUNNERS UP:
Andrew Huff, Bethesda Project
Bryce Fender, WILM INVEST

HEALTHY COMMUNITIES AND ECOSYSTEMS: Innovative service models integrating the Social Determinants of Health into Health Care.

1st: Heather Hayes, Brian's House
2nd: Faith Mole, Congreso de Latinos Unidos
3rd: Dharmini Shah Pandya, Temple Health, Main Campus
RUNNERS UP:
Kayla LeLeux-LaBarge, HeyKiddo, LLC
Marian Moskowitz, Josh Maxwell, and Michelle Kichline, The Commissioners of Chester County.
HEALTHY FOOD ACCESS. Innovative models providing affordable, accessible, and healthy food. 

1st: Sanctuary Farm Phila, Represented by Halle Watkin
2nd: Eli Moraru and Alexandre Imbot, The Community Grocer
3rd: Sharing Excess
RUNNERS UP:
Patrick Vulgamore and Lisa Rasi, Temple Health, Episcopal Campus
Craig Colistra, Pottstown Area Health & Wellness Foundation
WATCH THE AWARD CEREMONY