We're Growing! New Board Members Announced.
FOR IMMEDIATE RELEASE, PHILADELPHIA, PA (October 19, 2022) – The Economy League of Greater Philadelphia (ELGP) continues to grow its board and has made diversity a priority.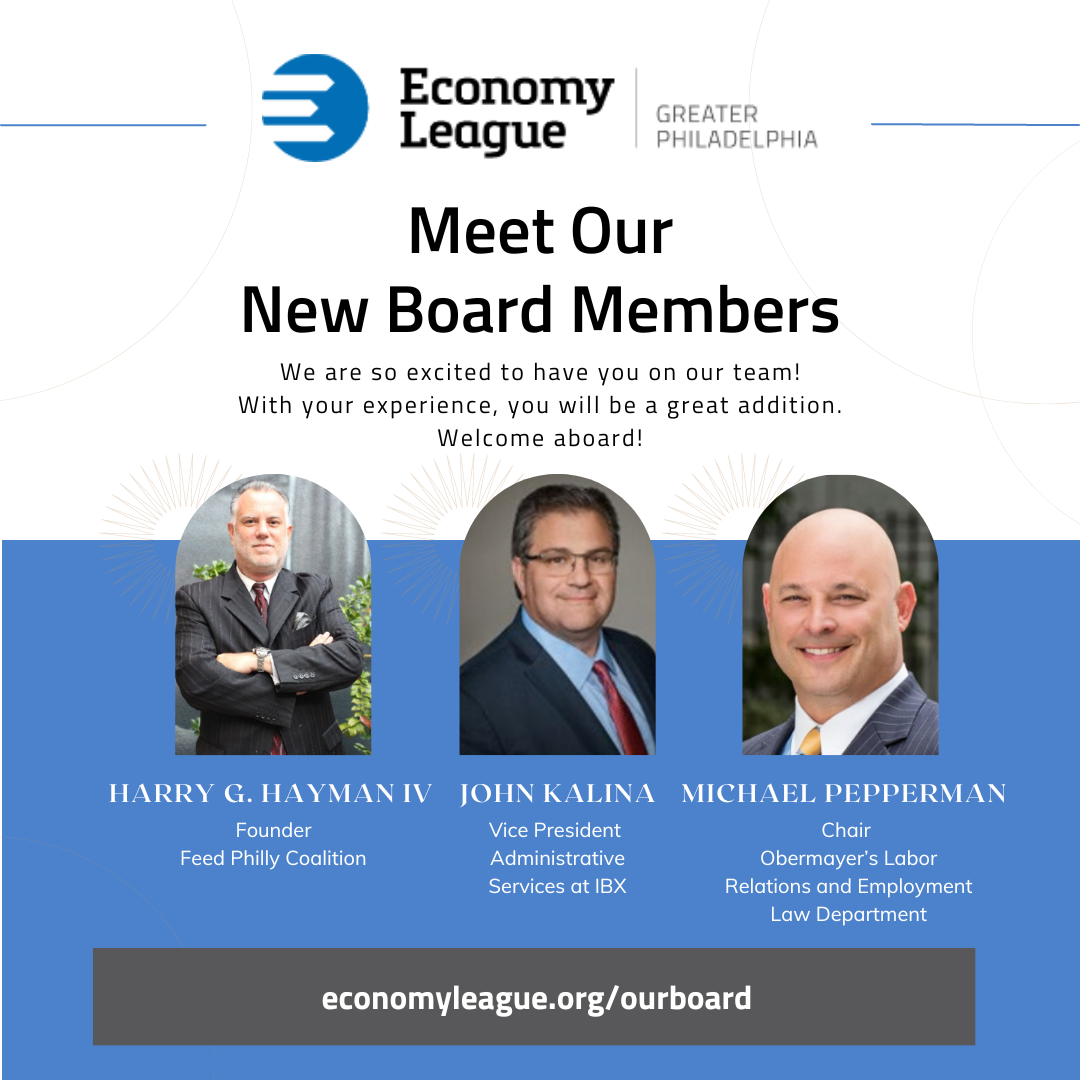 At its Q3 2022 Board of Directors meeting held at Public Health Management Corporation on October 19, 2022, the Economy League elected the following new directors:
Harry G. Hayman IV, the creator of the Feed Philly Coalition, which aims to assist in feeding the less fortunate in Philadelphia.  Harry is a trustee to his brother's foundation, the Gray Bradley Hayman Foundation which aims to improve healthcare outcomes. Apart from the Feed Philly Coalition, Harry oversees operations at his consulting company, The Gemini Consultants, and is serving as Senior Fellow for Food Economy and Policy at the Economy League.

John Kalina, Vice President of Administrative Services at Independence Blue Cross. John leads the company's Strategic Sourcing and Procurement, Real Estate, Facilities, Accounts Payable and Disbursements, Vendor Management, Safety, and Security. Before his time at Independence Blue Cross, John worked for TIAA-CREF and Cigna.

Michael Pepperman, Chair of Obermayer's Labor Relations and Employment Law Department and a member of Obermayer's Management Committee. Mike is an accomplished attorney known for his tireless advocacy on behalf of his clients. He focuses his practice exclusively on the representation of management in all aspects of labor relations and employment law. 
"We are thrilled to add Harry, John, and Mike to our already incredibly rich Board talent pool," said ELGP Board Chair Jim Markham, Vice President and Regional Transportation Principal at Pennoni, "and I look forward to their deep engagement with the work of the Economy League."
The Economy League Board has grown by more than 20% since 2018 and has seen the proportion of BIPOC members increase from less than 5% in 2018 to 38% in 2022.  Its 11-member Executive Committee is 27% BIPOC and two-thirds of the executive officers are women.