The Pivot
The Pivot was a web series from the Economy League's Impact Labs produced in 2020 during the early days of the COVID-19 pandemic as organizations in Greater Philadelphia scrambled to pivot in response to the major changes wrought by the pandemic and ensuing lockdowns. The Pivot was the brainchild of ELGP Managing Director Nick Frontino and Impact Labs Program Manager Jen Devor.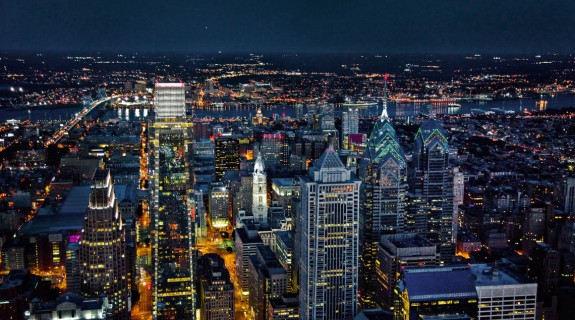 What do you do when, overnight, a global pandemic plunges the organization you lead into uncertainty? Welcome to The Pivot.
In 2020, Greater Philadelphia experienced rapid changes in the way we function as a society. Fear of contracting the coronavirus led to social distancing, causing dismay in every aspect of life. As a result, we saw great economic dislocation and chaos. But there was hope - and The Pivot was designed to focus on these "bright spots."
Businesses, institutions, and nonprofits alike learned how to forgo long-term planning, increase their risk tolerance, and adapt quickly to a constantly evolving scenario. There was no handbook or best practices on how to do this, so we were forced to be creative and collaborative. And it was no surprise to the Economy League that Philadelphians rose to the occasion, being swift, agile, and savvy. Hear from diverse leaders in real time about how they embraced these changes, gave life support to their bottom lines, and pivoted to embrace the new normal.
Episodes of The Pivot
EPISODE 1: WELCOME TO THE PIVOT Jen Devor & Nick Frontino, Economy League of Greater Philadelphia
EPISODE 2: REIMAGINING PLAY Ivy Olesh, Playworks
EPISODE 3: THE POWER OF PARTNERSHIPS Malik Brown, Graduate! Philadelphia
EPISODE 4: CREATING CAREER PATHS Kathryn Epps Roberson, Hire! Philly
EPISODE 5: PUTTING PEOPLE FIRST Matt Bergheiser, University City District & Sarah Steltz, West Philadelphia Skills Initiative
EPISODE 6: BIGGER, BOLDER & BRAVER Tracy Brala, University City Science Center & Venture Cafe
EPISODE 7: PERSEVERANCE, HOPE & LOVE​ Julie Coker & Angela Val, PHLCVB
EPISODE 8: REASSURING SOON-TO-BE GRADS Deborah Diamond, Campus Philly
EPISODE 9: AMPLIFYING PHILLY Michelle Freeman, Witty Gritty & Amplify Philly
EPISODE 10: THE PROCESS OF PIVOTING Russ Starke, Shawn Hickman & Allison Drechsler, Think Company
EPISODE 11: FIGURING OUT FUNDING Siria Rivera, Providence Center
EPISODE 12: PREPARING FOR THE UNKNOWN Oscar Wang, CollegeTogether
EPISODE 13: THE ART OF LISTENING Marisa Denker, Connect the Dots
EPISODE 14: THE CLASSROOM OF THE FUTURE Al Motely, Jr., TECHADEMICS
EPISODE 15: CHECKING IN Stephanie Reid, #PhillyCounts