COVID-19 and Greater Philadelphia's Tech Workforce
Across the U.S, the COVID-19 pandemic has to date wiped out roughly the same number of jobs that were created since the Great Recession. In previous briefs, we've detailed how this job loss is affecting various local industries and businesses, and we've highlighted those that have been most negatively affected. In this Leading Indicator, we shift to a potential bright spot and focus on one of the region's less-impacted industries, the technology sector. With the sudden shift to remote or teleworking, this cross-cutting sector has become essential to maintaining the local economy. It may also provide new equitable growth opportunities as the pandemic ends.
Key Takeaways
Greater Philadelphia's tech sector is moderately sized and accounted for 4.4 percent (approximately 115,000 jobs) of the metropolitan region's total employment in 2019.
Some of the region's fastest growing tech jobs do not require four-year degrees and thus may represent employment options for those who have lost their jobs during the pandemic.
While there has been a decline in tech job postings in Philadelphia, the sudden need for remote work and social distancing may have stemmed the number of furloughs and layoffs that are occurring in other industries.
Greater Philadelphia's tech sector is buoying the local economy during this time of crisis, and it may offer post-pandemic opportunities that may ignite the reconstruction of the local economy.
Greater Philadelphia's Pre-Pandemic Tech Workforce
The technology or tech sector encompasses a wide variety of occupations that are often situated within other industries. In today's technology-driven economy, it is not uncommon to find a software developer working at a bank or hospital or a data analyst working at a nonprofit. Therefore, in this brief, we aggregate various tech-related occupations to capture the unique size of this sector within the region (this is consistent with the methodology used in our previous 2017 report on the region's tech workforce and its 2019 update).
In comparison with other metropolitan areas, Greater Philadelphia's tech sector is moderately sized. Figure 1 details the tech sector's concentration across major U.S. metropolitan regions. In 2019, Greater Philadelphia's tech workforce accounted for 4.4 percent of the region's total employment (approximately 115,000 jobs). While this surpasses concentrations in larger metropolitan regions like New York City (4.2%), Chicago (4.2%), and Los Angeles (3.8%), it is dwarfed by its more tech-focused counterparts like Washington D.C. (8.8%), San Francisco (8.1%), Seattle (8.0%), Austin (6.9%), and Boston (5.8%).

FIGURE 1
NOTE: Data for Figure 1 were obtained from annual estimates from the U.S. Bureau of Labor Statistics' Occupational Employment Statistics (OES) survey.
While Philadelphia's tech workforce may not be as large as other major metropolitan regions, it has seen substantial growth. The region added a net total of approximately 15,000 tech jobs between 2012 and 2019 with an average annual growth rate of 1.9 percent. Much of this growth can be attributed to a group of recently growing tech occupations in the region, specifically, Computer Numerically Controlled (CNC) Tool Programmers and Operators, Information Security Analysts, Database Administrators and Architects, and Computer Network Architects and Support. Some of these occupations—in particular, the CNC Tool Programmers and Operators—only require a high school, GED, or Associates degree for entry [1]. Figure 2 shows the composition of occupations comprising Greater Philadelphia's tech workforce and 2019 employment estimates.
FIGURE 2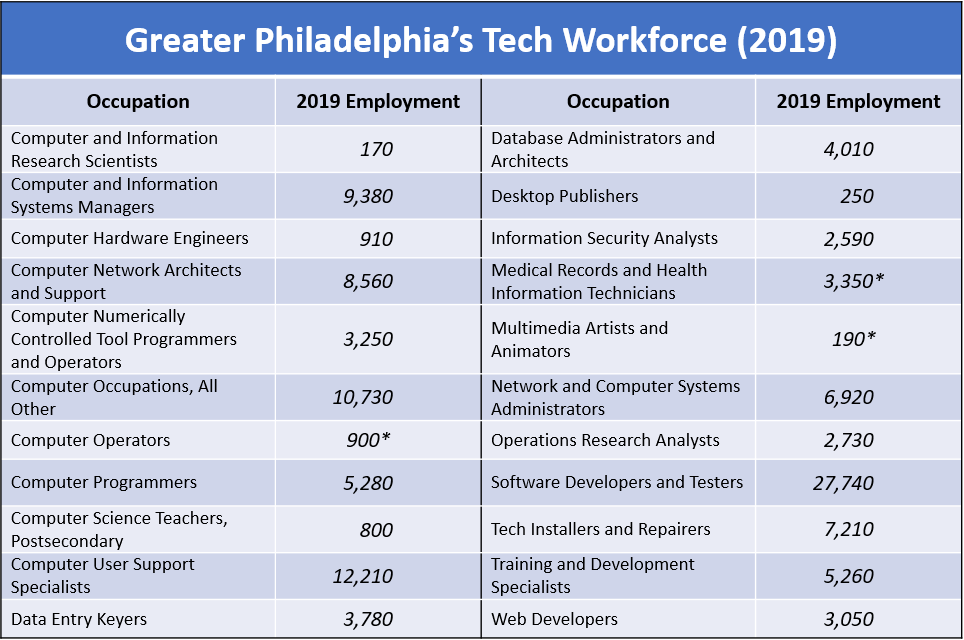 NOTE: Data for Figure 2 were obtained from annual estimates from the U.S. Bureau of Labor Statistics' Occupational Employment Statistics (OES) survey. Many tech occupations listed here are grouped together based on measurement and occupational title changes during the given time period. An asterisks symbol (*) designates 2018 employment estimates since the 2019 estimates were unavailable or inconclusive.
Greater Philadelphia's racial and ethnic minority representation in the tech workforce seems to closely resemble national estimates as well. Figure 3 shows the racial and ethnic composition of Computer and Math Occupation (CMO) employment for Greater Philadelphia and the U.S. from 2012 to 2018. Between 2014 and 2017 African American representation in CMO significantly outpaced national estimates, but in 2018 fell back to the national average or slightly below it. Latinx/Hispanic representation showed the opposite trend; after years of under-representation, the proportion of Latinx/Hispanic CMO workers approached the national average by 2018. 
FIGURE 3
NOTE: Data were obtained from one-year estimates of the U.S. Census Bureau's American Community Survey. The tech workforce is operationalized as any resident in the geographic area employed in a "Computer and Mathematical" Occupation.
Greater Philadelphia's tech sector has not been immune to the economic repercussions brought on by the COVID-19 pandemic. Although unemployment counts for the sector are still being determined, various employment search websites have reported slight declines in tech job postings since the beginning of April 2020. In fact, Dice—an employment site that specifically caters to the tech sector—recently reported that tech employment posts in Philadelphia have declined by 21 percent between the last week of March 2020 and the beginning of April 2020 (see Figure 4 below). While these declines in job postings may reflect a slowdown or even a freeze in hiring, we do not yet see evidence of the mass furloughs or layoffs that are occurring in other industries.
FIGURE 4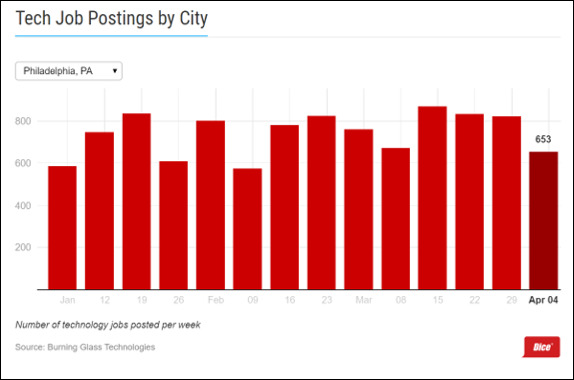 Tech seems to be keeping the region's professional services economy alive while providing critical services to many small businesses that have had to pivot from face-to-face to online operations. Telecommunications and Internet providers have had to increase broadband capacity for customers to work from home, virtual conferencing and meeting applications like Zoom and Google Hangouts have reported more usage than ever before, small restaurants and food hospitality firms have been able to establish themselves online to supplement some of their losses, and industry sectors that have never previously worked in virtual settings are now training staff and customers on the use and benefit of these technologies. These trends make it less likely that the tech workforce will see the mass layoffs and furloughs experienced by the hospitality, retail, and food accommodation workforce.
The pandemic has also pushed many holdout industries into adopting new technologies. With social distancing mandates in place, the education system has been forced to adopt a tech-focused approach to teaching and learning for all ages. This has many implications from preschool learning to higher education, but distance or online learning was only considered a "growing trend" prior to the pandemic. Additionally, while the healthcare system is no stranger to technology, many primary care physicians and specialists have rapidly embraced telemedicine via virtual patient consultations. This has piqued the interest of some private insurance groups, which have started reimbursing for virtual patient monitoring. This rapidly emerging trend has quickened doctor's response times and helped medical professionals prioritize their patient caseloads. These changes are the product of the continued work of tech employees who have helped their organizations establish technological capabilities, train users, troubleshoot issues, and promote best practices.
Greater Philadelphia's Tech Workforce in a Post-Pandemic World
The COVID-19 pandemic will not end suddenly. Rather, social distancing and the reopening of "non-essential" businesses will occur gradually. With potential resurgences of the virus in Autumn and Winter, the post-pandemic world will not look like its predecessor. There will be a "new normal" to obtain, and Greater Philadelphia's tech workforce will play a key role in establishing that "new normal."
The pandemic has moved tech to the forefront of Greater Philadelphia's economy. If this crisis were of a virtual nature that prevented the use of the Internet and all other technologies, we would look to the face-to-face-reliant businesses for sustaining the local economy. In this crisis, however, the economy is being buoyed by the region's tech sector. In fact, there will likely be a higher demand for tech jobs in the region as the pandemic ramps down. Businesses and organizations will be looking to expand their tech plans and protocols while simultaneously training staff and clients on the use of new technologies; additionally, there will be a greater concern for virtual security.
The post-pandemic's emphasis on tech will provide three major opportunities for the regional economy. First is the capacity to retrain and incorporate those who recently lost their jobs due to the pandemic. There will be a greater demand for tech across all skill-levels and many tech occupations have lower entry-level requirements for building a sustainable career (in particular, the CNC Tool Programmers and Operators, Medical Records and Health Information Technicians, Web Developers, User Support Specialists, Data Entry Keyers, and Tech Installers and Repairers) [1]. The tide of unemployment can be stemmed if local civic and business leaders can determine their future tech needs and subsequently share their needs with community and workforce development groups who can begin training programs.
Additionally, the growth in tech following the pandemic needs more representation from women and persons of color. Greater Philadelphia's tech workforce is largely white, Non-Hispanic, and male. Training and incorporating underrepresented populations in tech jobs should be a top priority of local workforce development organizations, local governments, educational institutions, and private firms in need of tech employment. Cross-collaboration among these entities can result in equitable workforce plans that could put previously underserved populations in sustainable career trajectories. Simple solutions during this time, such as reassessing library and community centers' technological infrastructures, partnering with local colleges and universities to create free online tech training workshops, contacting local workforce development groups to assess their clients capabilities and needs, or constructing a citywide equitable workforce plan could yield fruitful results as social distancing ramps down.
Finally, the post-pandemic demand for tech employment will coincide with new opportunities for business investment in the region. The Economy League has previously documented how early stage investment from both anchor institutions and private entities helped grow the region's biotech industry. The pandemic has created new opportunities for the creation of new tech products and services that span multiple industries. For example, a greater emphasis on telemedicine may require new devices that measure and record an individual's vital signs which could then be uploaded to a secure cloud infrastructure that is only accessed by a doctor or nurse. Similarly, a new conferencing tool could be built specifically for elementary- and middle-school classes that allows teachers to virtualize their lesson plans and seamlessly integrate interactive textbooks and workbooks for students' use. With enough capital and interest, many of these ideas can be grown and developed among the region's existing tech businesses and workforce.
Tech is not a panacea that will cure all the economic woes brought on by the COVID-19 pandemic. However, since the region's tech sector is buoying the local economy during this time, we need to recognize the post-pandemic opportunities tech will offer for the region's labor force; namely, a new source of sustainable employment and economic investment. It may be the foundational spark that helps ignite the reconstruction of the local economy. 
Works Cited
[1] Bureau of Labor Statistics. 2019. Occupational Outlook Handbook. Washington D.C.: U.S. Department of Labor. Retrieved from: (https://www.bls.gov/ooh/home.htm).