Creating Wellness Synergy through the Well City Challenge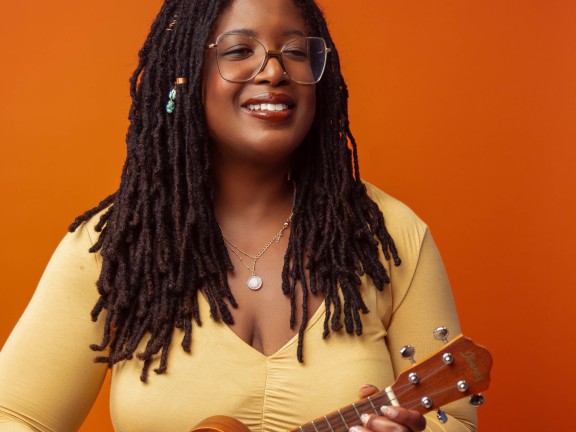 Creating Wellness Synergy through the Well City Challenge
Team: The Wellness Co-Op by Joy Bullard-Moore
Joy Bullard-Moore is founder of The Wellness Co-Op, promoting opportunities for all residents to gain consistent access to quality health and wellness resources that are often considered "complementary" to traditional treatments. The Wellness Co-Op is a finalist for the 2023 Well City Challenge.
Before I was born, my mother suffered from headaches that worsened each day before culminating in the need for emergency brain surgery. Luckily, she came away from the procedure alive, but not without losing her sight. Nearly 40 years later, I was also lucky to come away from a pulmonary embolism, this time without any complications from surgery.
I often think about both of our experiences and am left contemplating what community health could have looked like for of us, particularly as black women, to have more support and access to holistic medical and complementary treatment.
As a result of all my thinking, the idea for The Wellness Co-op developed into a health-oriented cooperative owned by a collective group of local wellness-oriented businesses and residents. It had been an abstract concept I'd dreamed of for several years before finally getting the nudge I needed from a friend to apply for the Well City Challenge (WCC). I cannot say whether from nerves or procrastination that I submitted my application to WCC last minute, but I haven't looked back since and am extremely grateful to be one of this year's Judge's Choice winners.
WCC organizers have pushed me out of my comfort zone by forcing me to put The Wellness Co-op on paper, teaching me what a business plan looks like, and advising me on how to make my idea digestible for the audiences I am trying to reach. The most valuable resources I've been granted access to are a mentor – Sally Guzik, thank you for believing in me – and the opportunity to have a sounding board through other team founders that share my same passion for health equity.
It's been an extraordinary experience to see other Well City Challenge teams begin to build their operations and see their concepts come to life.
I'd also be remiss not to acknowledge the 168 businesses already focused on holistic community health within a 15-mile radius of Center City Philadelphia. It is these businesses that The Wellness Co-op is looking to uplift and amplify so that our communities, especially marginalized ones, can achieve health equity.
Through these efforts, we will create more physically accessible and financially affordable wellness options so that people are as lucky as, if not more than, me and my mother to detect serious health issues through holistic care before emergency procedures are needed.
If you are a wellness business owner, or know of a wellness business, that is interested in creating healthcare synergy through The Wellness Co-op, please contact Ethel-Joy Bullard-Moore at [[email protected]].